We've all experienced the dread that comes with tossing and turning during the night. All you want is sleep, but for some reason or another the body has a mind of it's own. Whether it's due to pressure at work, extra cups of coffee or late dinners, that restless feeling until the early hours of the morning gives a sense of helplessness. When counting sheep becomes futile, it's time to search elsewhere for a restoration of calm at night. More and more people are wondering how to use a weighted blanket for this exact purpose.
Keep reading to discover what the benefits are of a weighted blanket and how it can guide you on your path back to a deep, restful sleep.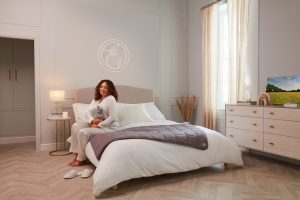 What is a weighted blanket?
Let's begin with asking the question: what exactly is a weighted blanket? Well, it's a blanket, but one which is filled with beads to make it heavier and provide a relaxing therapy of gentle pressure. This gentle pressure applied by the extra weight means that some of the benefits of a weighted blanket include contributing to the improvement of sleep, mood and relaxation. ESPA's weighted blanket is filled with soft polyester and glass beads to evenly cocoon you as you rest but also features a grey, quilted design so will look luxurious in any room, wherever you like to relax.