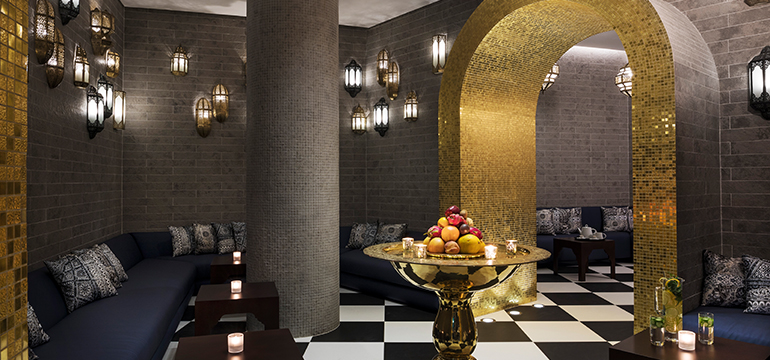 ESPA Mondrian Doha, Qatar, is the perfect place for a wellness transformation. Step into anther world and be transported on a journey to ultimate relaxation. Hidden under the wing of the iconic Falcon, ESPA Mondrian Doha is truly a hidden paradise, an oasis retreat away from daily life.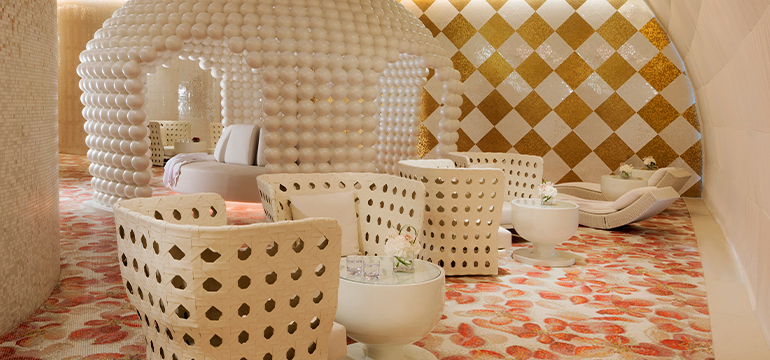 With a thoughtful design and an adventurous use of colours and textures, Mondrian Doha combines contemporary with traditional to create the most beautiful space. Designed by acclaimed designer, Marcel Wanders, ESPA Mondrian Doha has a wealth of breathtaking facilities. These include:
Separate spas for male and females
12 Treatment Rooms
Relaxation Rooms
Heat Experience "Secret Garden"
Turkish Hammam
Private VIP Suite
The female spa is a place of pure serenity. Beautiful white and pink walls emanate a calming, light energy. Guests can enjoy crystal rain showers, a Finnish Sauna, steam rooms and relaxation rooms with warming daybeds. Be treated like a princess and restore vitality to face and body in this beautiful environment.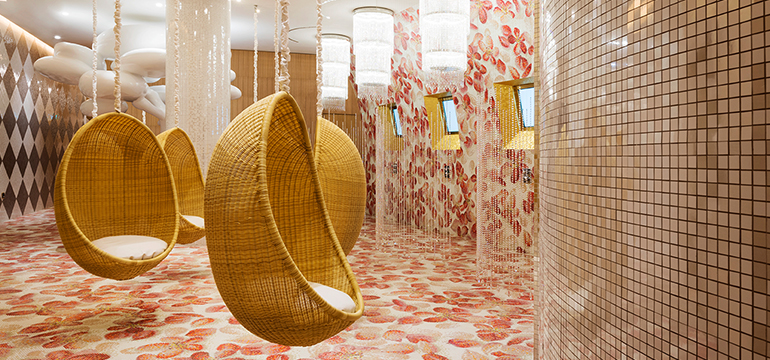 The male spa features a contrasting decor of dark blue, black, white and grey to create a cool environment. There are 4 treatment rooms, a VIP treatment suite, wet and dry steam rooms, showers and heated daybeds, all designed to rejuvenate and soothe guests. Finish by relaxing at the Fire and Water fountain as the perfect final touch.
The Hammam is truly a focal point of Mondrian Doha. It signifies the elegance of the traditional Turkish villages. A beautiful environment that is covered in an ornate shimmering crystal canopy, a bathing area and heated table slabs in 2 treatment rooms that offer body scrubs and massages.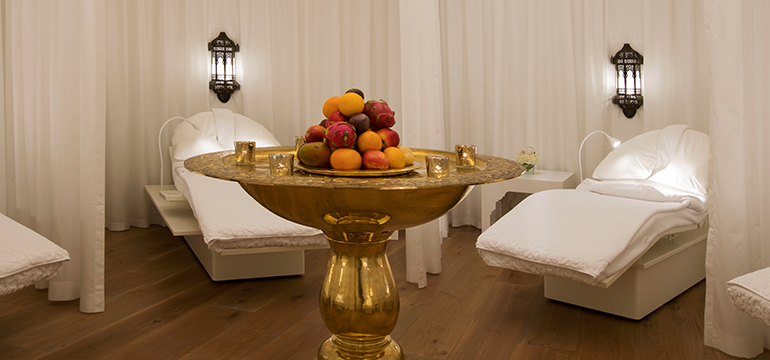 The treatment menu reflects Mondrian Doha's desire for guest to re-connect. Treatments combine traditional healing philosophies with the latest scientific advances, to deliver treatments that provide instant and long-term results.
One popular treatment is the Holistic Harmony treatment.
Powerfully boost overall well-being with this tranquil holistic experience.     
Inspired by ancient Ayurvedic techniques, this exceptional treatment tackles insomnia or high stress levels by focusing on the body's Marma points (energy centers) using targeted massage and a warm infusion of aromatherapy oils. Physical tension is eased, a busy mind is quietened and signs of stress are eliminated.
Includes: Foot ritual – Body exfoliation – Facial cleanse – Marma point body massage – Scalp massage
To book a treatment, contact espa.doha@sbe.com.