As the chapter of 2022 comes to a close, there is no better time for a new year reset. Once January has emerged, so too do the annual efforts to start off on the right foot. We come equipped with new exercise clothing, memberships, and Tupperware for a year of health, wellness, and saving unnecessary expenses via homemade meals. However, as we progress into the year and the over-indulgence of the festive season escapes us, we often slip back into our old ways. We return to pressing the snooze button and caving to our immediate desires. For one reason or another, new year resolutions are notoriously difficult to maintain. This is why at ESPA, we encourage you instead to learn how to reset for the new year.
Here's your guide to a new year reset, with ESPA.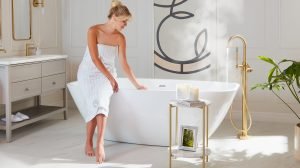 Find simple ways to refresh your home
It is often said that your environment shapes you. If your home has become one that is filled with clutter and lacking in inspiration, this can have a direct impact on your motivation and mood. However, there's no need to start re-painting or investing in new furniture. Small changes lead to big results and in fact, there are many simple and subtle ways to refresh your home that can entirely refreshen the mind.
To refresh your bathroom
To begin, assess your current bathroom towels. Are they looking a little grubby and feeling rough? A simple yet impactful way to refresh your home is to upgrade the towels you use on a day-to-day basis. The delicate skin on your hands and body deserves crisp, cloud-like cotton to gently dry it. This simple change will elevate your entire bathroom experience, welcoming a spa-like quality into your home.