A spa massage can do wonders for the holistic sense of wellbeing. The mind is left quietened, the soul uplifted, and the body relaxed. A luxury enjoyed by many, yet often experienced as part of a special occasion rather than a self-care ritual. However, it's not always necessary to travel outside of the home to reap these benefits of a massage. You have the ability to be your personal masseuse with the correct knowledge of how to do a spa massage at home. All you need is the right environment, mindset, and tools.
Keep reading to discover ESPA's guide to a spa massage at home.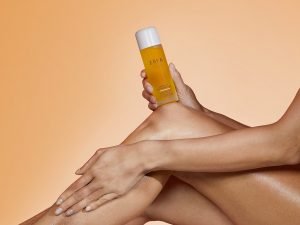 What do you need for a spa massage at home?
From reduced feelings of stress to relieved tension in the body, there's no denying that massages are worth penciling into your routine. Plus, to feel the effects of a spa massage at home, you require only two tools.
The first may be the most difficult to find, especially with children to look after: uninterrupted time to yourself.
The second is a tool easily attainable to all: a massage oil.
Try to awaken ten minutes earlier in the morning to set aside some time to indulge in this moment of self-care. Alternatively, choose an evening before bed when the house is quiet to mentally transport yourself into a spa. To set the environment and aura, take a look at our guide of steps you can take to transform your bathroom into an oasis of calm.
Once you have decided on a time and place to carry out your spa massage at home, all that's left is to decide what is the best massage oil for you.
What is the best massage oil to use?
Not all oils are designed to be applied to the skin, so it's important to clarify what the best massage oil is.
ESPA's collection of natural bath and body oils multi-task as both luxury body oils and therapeutic aromatic oils to add to your bath. Each one of the massage oils has been specially formulated with a rich mélange of Avocado, Sweet Almond, and Soybean Oils to support the skin's natural moisture barrier and leave it soft and supple. What's more, the various blends of essential oils create a different fragrance in each product. These fragrances harness the power of aromatherapy and elevate each moment with a sensorial connection for the mind as they nourish the body.
So, within the varying range of oils, you may be wondering what is the best massage oil for you.
The blessing with these varying fragrances is that you can choose one to match your mood. If it's likely you will carry out your spa massage at home in the mornings, you may wish to opt for an oil that will uplift the spirit and recharge the senses. In that case, the enlivening blend of stimulating Peppermint, refreshing Eucalyptus, and clarifying Rosemary may be what is the best massage oil for you.