Silk is linked with a sense of luxury, this has always been the case. With its durability, soft feel, and lustrous finish, it is a material that exudes elegance. The origins of silk date back to Ancient China and it has since been considered one of the finest materials there is, especially in global fashion. It is no surprise then, that the idea of silk bedding and nightwear has followed suit and taken the world by storm.  However, the benefits of silk pillowcases surpass the feeling of opulence alone. From anti-aging properties to tangle-free hair, silk pillowcases are now said to be the final, missing piece of the perfect skin and haircare regimens.
Keep reading for all you need to know about the benefits of silk pillowcases.
Are silk pillowcases good for skin
To begin, are silk pillowcases good for the skin? If so, how can they differ so vastly from traditional cotton?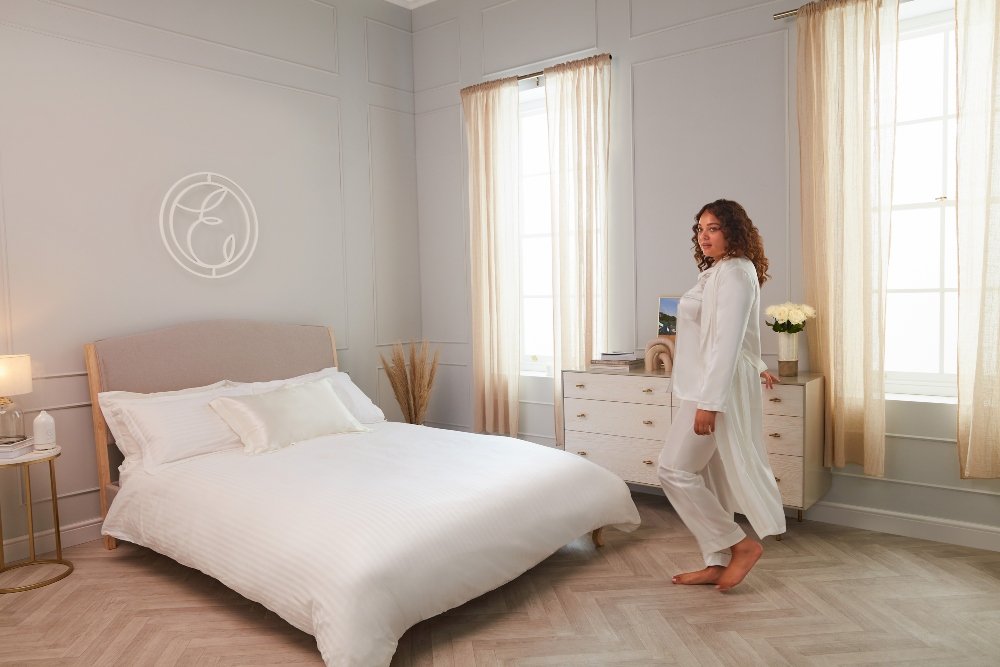 Silk is composed of long, tightly-woven, natural fibres. This composition means that silk as a material has a smooth surface for your face to lie against. In fact, it's said that with traditional, rougher materials, the side you sleep on can be distinguished by sleep lines that occur on the face. These sleep lines gradually turn into permanent fine lines. As silk is so soft, your face glides on the material as you sleep, no friction and no marks upon awaking. Therefore, silk pillowcases are good for the skin as they provide far less friction, tugging and scratching against it overnight.
The tightly-woven composition of silk pillowcases is also good for the skin as it helps it to lock in its moisture during the night and will not absorb any of the beautiful night creams you may be applying. It is therefore said that one of the benefits of silk pillowcases includes reversing the signs of ageing. Hydrated, plump skin shows far fewer fine lines and boasts a more radiant complexion than dehydrated skin cells.
What's more, ESPA's silk pillowcases are a much preferred fabric for those who have sensitive skin. Not only do they have a naturally soothing-to-touch feel, they are free of any potentially irritating added chemicals and contains natural substances that ward off various environmental allergens, including dust mites, mould, and fungus.
If you find that your skin can be irritated by the textures of traditionally rougher fabrics, choosing silk alternatives can provide a huge relief, from your pillowcases to your pyjamas.