Weekend lie-ins, the snooze button, late nights. If you're nodding your head as you read this, you may have accepted the fact that you are not a morning person. There is a natural tendency in all of us to be drawn to either the night or day. It's called our chronotype, and it's genetic. However, despite your genes telling you to press the snooze button, life's demands may require you to arise earlier than you prefer. Whether it's the return of the office commute, the school run, or a new year's resolution, the time we need to wake up at is often decided for us.
Although you may never yearn to go for a sunrise jog at the crack of dawn, this is how to make mornings easier.
Try energising essential oils
The first step on how to get out of bed in the morning is to make your morning experience as pleasant as possible. The key to this is to stimulate your senses with aromatherapy as you go about your usual routine. According to Healthline, clinical research supports that there are certain oils that increase energy and relieve fatigue. These energising essential oils include Rosemary and Peppermint.
To balance your mood and set the right tone for the day, ESPA's Energising Oil is a blend of the exact uplifting oils needed to instantly brighten those early hours and make the mornings easier. Infuse it into the air of the room where you are most in the mornings using the ESPA Aromatic Essential Oil Diffuser. For example, you can easily transform your bathroom into an invigorating oasis with a simple addition of some foliage, a scented candle and essential oils to energise.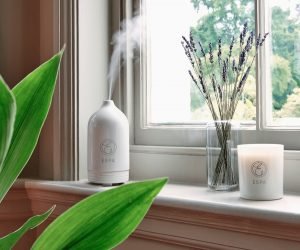 Before you brush your teeth, make a habit to breathe in the aroma of the revitalising Peppermint and Rosemary scents. This is a good opportunity to squeeze a morning breathing ritual into your routine. Reward yourself for your early rise with a moment of calm before the chaos of the day follows. Taking a moment to yourself to breathe provides that grounding sense you can carry throughout the rest of the day, no matter what obstacles may arise. It doesn't have to be a twenty-minute meditation, just a few minutes of calm can have a huge impact on your morning.