Welcome To Our 4 Red Star Luxury Hotel in Newmarket, Suffolk – Where Modern Luxury Meets Classic Elegance.
About Bedford Lodge
The only 4 Red Star hotel in Newmarket, Suffolk, Bedford Lodge Hotel & Spa retains the charm and character of a country house yet offers the very best in modern comfort and luxury. Newmarket is also home to horse racing which is a great day out, we are situated between historic Bury St Edmunds and charming Cambridge.  
The luxury hotel provides the perfect blend of old and new in a beautiful country setting. If you're looking for a hotel close to Cambridge or Bury St Edmunds – look no further than Bedford Lodge Hotel & Spa. Set in three acres of secluded gardens and adjacent to some of the most famous paddocks and training stables in the world, Bedford Lodge Hotel & Spa really is a memorable place to hold any event.
The Spa at Bedford Lodge Hotel in Newmarket prides itself on offering 5 star service and a fully personalised experience to each guest. With guests limited to just 45 people at any one time, attention to detail is paramount. From the initial guest welcome through to treatment care and the aesthetics of the surroundings, nothing is left behind.
Set within the manicured grounds of the stylish Bedford Lodge Hotel, this 5 bubble rated spa is housed in a separate beautifully restored Georgian property and retains many of the buildings original features.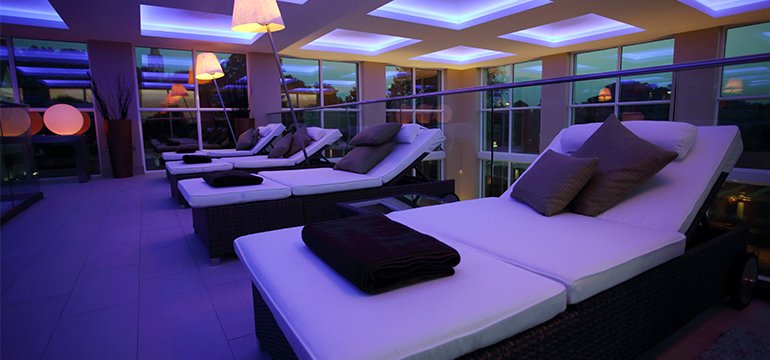 Bedford Lodge Spa
Recognised as one of the best spas in the east of England, our award winning luxury spa complex is located in the grounds of Bedford Lodge Hotel & Spa in central Newmarket, the spiritual home of horseracing. The Spa is Georgian-built property which once formed part of the estate of the sixth Duke of Bedford as did the main hotel, they offer hotel spa breaks, as well as day spa packages, and one-off treatments.
Located in Suffolk, The Spa at Bedford Lodge Hotel has created truly unique spa packages and treatments to deliver a full body and mind experience. With a country house feel, and championing British brands, the treatment menu has been carefully developed in cooperation with British spa brand, ESPA, and offers a carefully selected range of holistic, relaxing and results driven treatments.
Set within the ancestral horse racing town of Newmarket, guests can relax in the five different water experiences in the spacious mezzanine hydrotherapy pool or in the rooftop hot tub while listening to the gentle 'neighs' from the neighbouring stables.
A spa day or weekend break is a perfect opportunity to relax and unwind in a calm surrounding, with no distractions other than pampering! There are plenty of seasonal offers and opportunities to unwind in the tranquil surroundings. Spend your day breathing in the fresh Suffolk countryside air whilst enjoying the warmth of the outdoor rooftop hot tub. Watch the sun set and the stars come out, with a luxury Twilight packages.
Soothe those aching muscles and make full use of the hydrotherapy pool with five different water experience and high speed jets to target those stiff areas of your back and neck, then why not wind down in the steam room, sauna or Hammam? There is also an impressive Spa Lounge where guests can relax with a glass of something fizzy! Our spa lounge also offers both healthy and indulgent food and beverage to enjoy in-between treatments. With comfy beds, you can kick back with your favourite book or just take time out to shut your eyes and relax. For a weekend of pure relaxation, our spa breaks offer the perfect tranquil atmosphere. Zone out, unwind and get ready to be pampered.
As well as this range of spa experiences we also have our spa lounge and decadent relaxation room. Offering areas to kick back with a magazine or book, or simply shut your eyes and let your mind drift away. With soft blankets, comfortable sofas and soft lighting, it's not hard to unwind in this luxurious setting.
At the Bedford Lodge in Newmarket, Suffolk, we have a range of various spa breaks, from our popular 'perfect retreat' spa break to our 'romantic escape' spa break, perfect for couples who want to relax and spend some quality time together.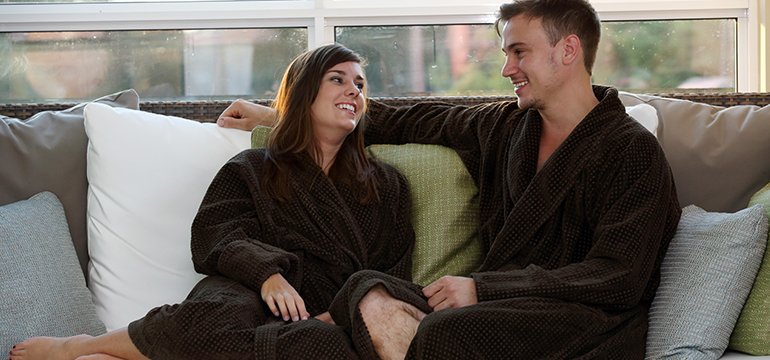 Treatment Offer
Personalised massage  

60 mins – £80 / 90 mins – £105

After a detailed consultation at our spa in Newmarket, Suffolk, our therapists will determine the most suitable massage for you.
Includes a tailored massage to suit your individual needs