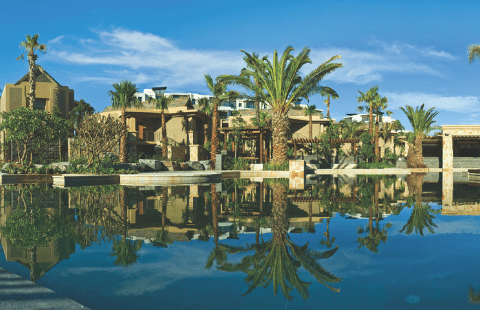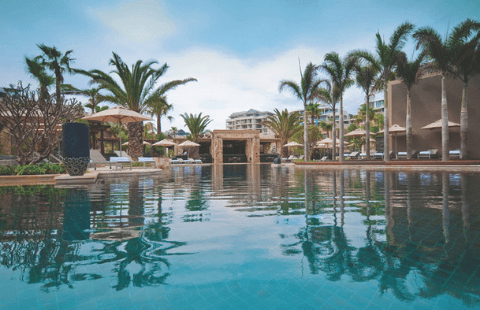 Situated in Cape Town's fashionable Victoria & Alfred Waterfront, overlooking the marina and with panoramic views across to Table Mountain, the 131 room One&Only Cape Town is Africa's most spectacular urban resort. One&Only Cape Town provides a comprehensive range of luxury services and serves as a gateway to the myriad of experiences on the continent – from safaris, to pristine beaches, to the exploration of the world-renowned Cape wine region.

What makes One&Only Cape Town so special?
One&Only Cape Town is an oasis of elegance amid the vibrant playground of South Africa's 'Mother City'. The resort's rooms and suites, the largest in Cape Town with a minimum size of 63 square metres, all have a private terrace or balcony. The rooms in the Marina Rise boast panoramic views of Table Mountain while those on the lush green island enjoy a distinctive resort feel with convenient access to the expansive infinity pool and Spa Island.

What is the best time of year to visit One&Only Cape Town?
Cape Town has a four seasons Mediterranean climate with mild winters and warm summers. The summer months, December to February, are very popular in Cape Town, although some may argue that the best times to visit are from March to May and from September to November. These shoulder seasons boast enviable weather and fewer crowds.

Apart from visiting the Spa, what activities are available for guests at One&Only Cape Town?
One&Only Cape Town offers a range of curated experiences, providing guests the opportunity to experience the best that the resort and city has to offer. From SUP'ing on the resorts mesmerising waterways, to unique wine blending experiences, guided hikes, cooking classes and vineyard tours, there's something for everyone to enjoy. The resort also features two exceptional dining options, Ochre and Nobu, serving contemporary South-African and Japanese-fusion cuisine, respectively.

Tell us something unique about the Spa at One&Only?
One&Only Spa occupies its own private island, creating an oasis of serenity surrounded by waterways and lush vegetation. It is an unparalleled spa retreat, offering tailored holistic experiences, ranging from pure relaxation to unique and signature wellness 'journeys'. The spa also boasts luxurious facilities, including thermal suites with vitality pools, sauna and steam room; and indoor and outdoor relaxation areas offering refreshments.

What are your Signature Treatments?
Signature treatments at One&Only Spa include the African Journey – A unique, proudly South African total body treatment created to prepare your skin for a nourished sun-kissed glow. Beginning with a Rooibos and rock salt scrub to encourage radiant skin, flowing into a massage experience with the African Rungu Stick to key areas of tension, and ending off with a Rooibos tea ceremony to complete your African Journey. Combining scents of sweet orange and baobab oil to uplift your senses, this total indulgence offers the ultimate feel good sensation.
We also offer our beautiful Essence of Cape Town treatment – this indigenous Signature Treatment uses many therapeutic plants from the Earth and Ocean to soothe, hydrate and nourish the skin and deeply relax the body. It begins with a sea salt and oil exfoliation to prepare your skin for the conditioning and re-mineralising seaweed wrap and mind clearing scalp massage. The treatment ends off with a unique full body massage using warmed seashells to melt away tension and stress. Soothing Rooibos tea will be served in the comfort of the relaxation room to complete your journey – evoking a true sense of place.

What facilities are in the Spa?
The spa features a Relaxation Suite offering healthy snacks, dried fruit, smoothies and herbal teas. Also noteworthy are the separate men and women's Thermal Suites which include steam rooms, saunas, ice fountains, experience showers and vitality pools

How many treatment rooms do you have and how many therapists?
The Spa has 10 authentic Spa Treatment rooms as well as 2 Couple Spa Suites for dual treatments. Guests are looked after by 14 experienced therapists as well as 5 Studio therapists.

What are your most popular ESPA products?
One&Only Spa guests love the Muscle Balm, Fitness Body Oil, Detoxifying Body Oil, Smooth and Firm Body Butter, Optimal ProSerum and the Tri-Active™ Advanced ProBiome Range.

How many nights would you recommend staying at One&Only Cape Town for?
We feel that 4 nights is the minimum ideal length of stay to experience the best of One&Only Cape Town. This way, guests are also able to enjoy our "Stay 4 Nights, Pay for 3" offer, which is applicable to all room categories and gives guests the option of their first or last night being complimentary.

Tell us about any special activities or promotions you are offering?
For those looking to rebalance their health while on a relaxing vacation, our Live Well Package offers guests a 90 Minute Mindfulness Moment Massage, a 60-minute One Fusion workout session in our Fitness Centre, fresh fruit and vegetable juices delivered to your room/suite daily as well as complimentary use of the Fitness Centre and Thermal Suites at One&Only Cape Town Spa.
To find out more about One&Only Cape Town or to book your stay, click here.