ESPA at Mondrian Doha, located in the beautiful depths of Qatar, is the perfect place for a wellness transformation. Step into anther world and be transported on a journey to ultimate relaxation. Hidden under the wing of the iconic Falcon, ESPA Mondrian Doha is truly a hidden paradise, an oasis retreat away from daily life that is guaranteed to deliver an unforgettable wellness experience. The first ESPA spa in the Middle East, the spa spans over 22,000 square feet of pure luxury.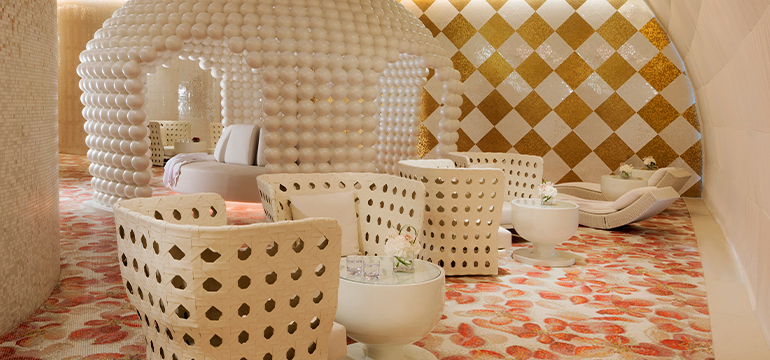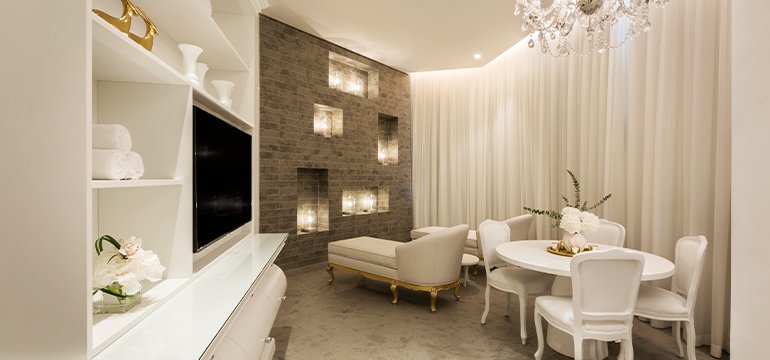 Follow the shimmering mosaic walls to the treatment rooms and stunning facilities. With a thoughtful design and an adventurous use of colours and textures, Mondrian Doha combines contemporary with traditional to create the most beautiful space. Designed by acclaimed Dutch artist, Marcel Wanders, ESPA Mondrian Doha has a wealth of breathtaking facilities. These include:
Separate spas for male and females
24 hour gym with city views
12 Treatment Rooms
Relaxation Lounges
Steam Rooms
Experience Showers
Heat Experience "Secret Garden"
Turkish Hammam
Private VIP Suite

The design of the spa is one of the most spectacular design feats ESPA has. The female spa is a place of pure serenity. Beautiful white and pink walls emanate a calming, light energy. Guests can enjoy crystal rain showers, a Finnish Sauna, steam rooms and relaxation rooms with warming daybeds. Be treated like a princess and restore vitality to face and body in this beautiful environment.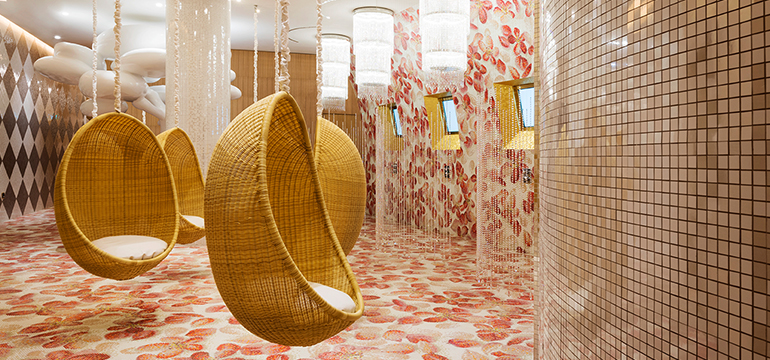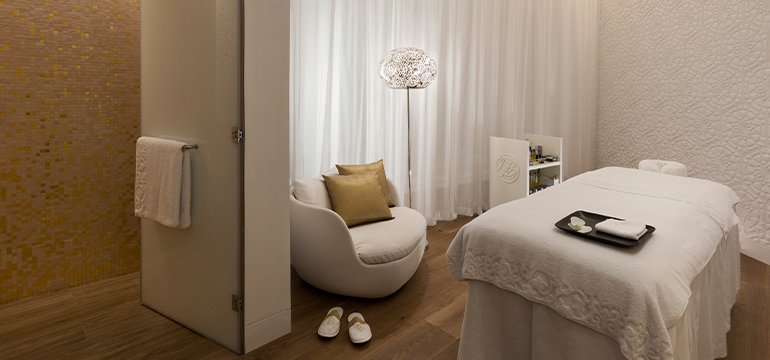 The male spa features a contrasting decor of dark blue, black, white and grey to create a cool environment. There are 4 treatment rooms, a VIP treatment suite, wet and dry steam rooms, showers and heated daybeds, all designed to rejuvenate and soothe guests. Finish by relaxing at the Fire and Water fountain as the perfect final touch.
The Hammam is truly a focal point of Mondrian Doha. It signifies the elegance of the traditional Turkish villages. A beautiful environment that is covered in an ornate shimmering crystal canopy, a bathing area and heated table slabs in 2 treatment rooms that offer body scrubs and massages.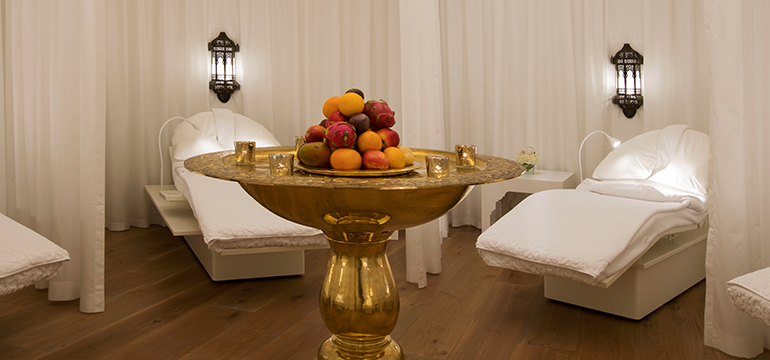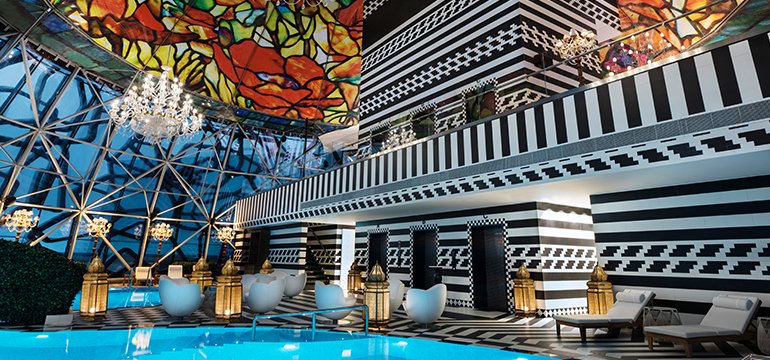 The treatment menu reflects Mondrian Doha's desire for guest to re-connect and is fit for any prince or princess. A cool and calm sanctuary from the desert heat that not to Qatar's Arab heritage. Treatments combine traditional healing philosophies with the latest scientific advances, to deliver treatments that provide instant and long-term results.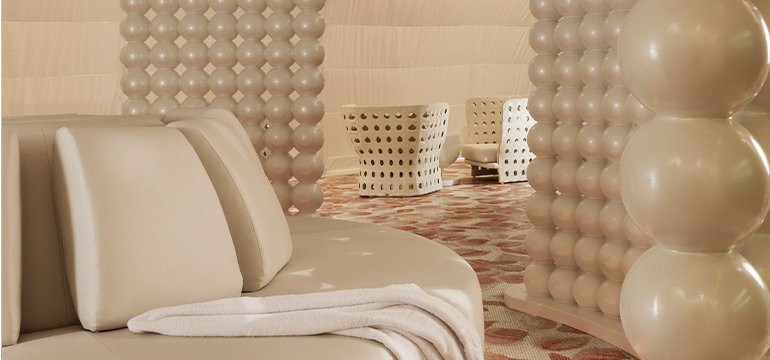 ULTIMATE HAMMAM JOURNEY 120 MINS
The Ultimate Hammam experience – cleanse, smooth, hydrate and nourish the skin, clear and awaken the mind, and banish muscular stress and tension. Emerge renewed.
INCLUDES: Glow Hammam Journey – ESPA Personalised massage or Personalised Facial
According to Mondrian Doha, the best time to visit the spa from November to March, when it is Winter and the temperatures are cooler. Outside of Mondrian Doha the hotel has 7 amazing outlets. If you wish to wander further afield, there is also a Souq, Katara, dessert safari, shopping malls and the Pearl Marina.
To book a treatment, contact espa.doha@sbe.com.