Hectic modern lifestyles, constant screen time, air-conditioned offices and more, all impact our skin. These factors can harmfully affect your delicate eye area, which can lead to signs of fatigue and tiredness. Waking up with tired, puffy eyes is a common concern, which is why ESPA have created their Depuff and Soothe Eye Gel. 
Compact enough to fit in a pocket, handbag or laptop bag, this daily gel is the perfect companion to provide a refreshing pick-me-up; the perfect cooling addition to your skincare routine. Suitable for use under makeup to soothe puffiness, or over makeup for a boost of hydration, this product will instantly revitalise your eyes ready for the day ahead. This lightweight, cooling and refreshing gel has been carefully formulated so that it easily glides over the skin. Absorbing quickly into the skin, leaving your delicate eye area feeling instantly hydrated and refreshed. The perfect skincare hydrator for eyes that feel fatigued and puffy from screen time, air conditioning, travel and more. Gently apply throughout the day to leave eye area feeling revitalised. 
Suitable for all skin types, especially dehydrated skin showing signs of fatigue.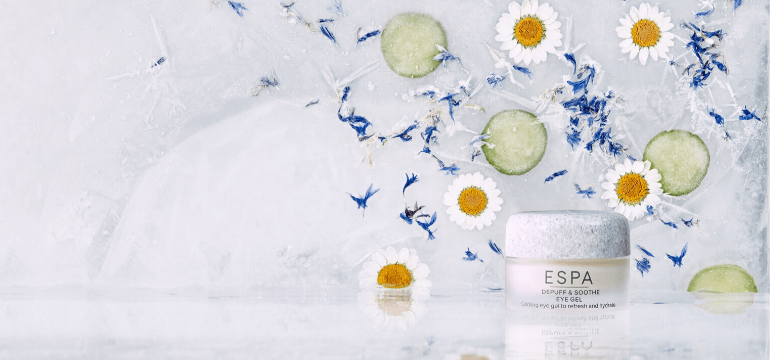 3 
Key B
enefits:
Appearance of fine dehydration lines is reducedd

Appearance of puffiness around the eye area is reduced

 

Helps brighten the appearance of the under-eye area

 
3 
Key ingredients:
Phyto-

C

omplex

 – a combination of Chamomile, Cornflower, Cucumber, Vitamin E and Kiwi Fruit Water, which leaves skin feeling soothed and calm. 

 
Mediterranean Ferment – Originating in Mallorca, this ingredient lives in symbiosis with one of the most salt-tolerant plants that beautifies the eye area by reducing dark circles, puffiness and fatigue.

 

Hyaluronic 

A

cid

 – 

a COSMOS approved acid 

provides in-depth moisturisation that leads to firmer feeling skin.
How to use:
A

fter cleansing and toning, gently tap

 a small amount

 into eye contour and under

 

eye area.

 

Gently 

tap product around the eye

,

 and then allow the 

moisturising

 gel to absorb into dehydrated skin.

 Do not rub or massage 

as this could harm 

delicate skin. 

 

Can

 be applied 

both underneath and 

over make-up to refresh and soothe during the day.

 

Suitable for use both in the morning and evening.

 
Consumer Testing:
*Independent user trials 2019, results based on 112 people over 2 weeks. 
78% of people agree that this product reduced the appearance of puffiness around the eye area, after 2 weeks.  
90% of people agree that this product left the skin around their eye area feeling hydrated after 2 weeks.  
 "Cooling when applied, skin under eyes felt softer and darkness around the eye appeared less" 
Top tip: Keep this product in the fridge before use, for an extra cooling effect.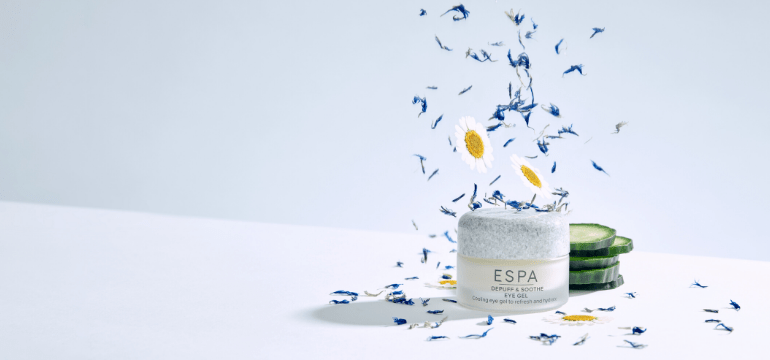 Other Information:
Depuff and Soothe Eye Gel is suitable for both Vegetarians and Vegans.  
It is made using a glass jar and stone-effect cap, both of which are fully recyclable (please separate before recycling). The cap also includes 5% post-consumer recycled resin.